Team of Construction Students Taught Olympism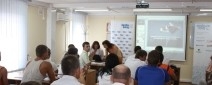 Over 50 students who are currently part of construction teams involved in delivering Russia's first Winter Games today participated in "The Olympic Induction" workshop in Sochi. The event was arranged by Sochi 2014 Organizing Committee with support from Russian Railways, a General Partner of the 2014 Winter Games.
Students from 18 regions across Russia attended the educational workshop. This included an introduction to the History and Philosophy of Olympism and Paralympism, the upcoming Games in Sochi and the Sochi 2014 Environment Strategy.Many of those who took part in "The Olympic Induction" requested to complete an educational training program to become more familiar with the topics of the Olympic and Paralympic Games. This course is aimed at the future leaders of the Sochi 2014 Olympic Education.Once the course is completed, the students will be able to run education workshops for their construction team mates. Later on, they will organize test events and will be granted certificates based on the results. The quality of the test event will be assessed by a group of youth experts appointed by the Sochi 2014 Organizing Committee. As a result, 18 regions will have volunteers assisting them in the implementation of educational projects as a part of the Sochi 2014 Olympic Education System.The workshop for construction team students is another event provided by the Organizing Committee with the goal of youth engagement. At the start of July "The Olympic Induction" was given to volunteers from Vladimir region engaged in the Organizing Committee's environmental initiatives. The students cleaned and refined the scenic parks and gardens in Adler and Lazarevsky districts of Sochi.Over the course of this summer, more student teams will arrive in Sochi and will receive Olympic knowledge while working on the Sochi 2014 project.